HairMax Laser Comb Advanced 7 Laser Model Review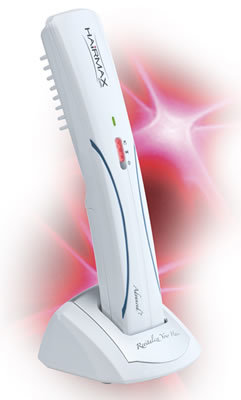 The HairMax Laser Comb Advance 7 Laser Model is the science of hair growth! If you have suffered with hair loss or just seeking hair restoration treatments, you would have likely spent countless hours looking for a solution to your problems. In that search, you will have come across a mountain of advertisements across the internet, all offering you miracle solutions for your hair loss problem. In the course of your search you may even have clicked a thousand-different links. Luckily, you don't need to keep clicking, because we're happy to introduce to you a new solution.
What is HairMax Laser Comb Advanced 7 Laser Model?
The HairMax Laser Comb Advanced 7 Laser Model harnesses the power of seven laser diodes. It should be used for 15 minutes at a time, over the course of 3 times every week. It's a revolutionary device that can be used at home and has been cleared by the FDA for use. It relies on low level lasers to reduce hair loss and improve hair growth. It leaves the hair thicker, fuller, healthier. The process uses the laser light to bathe the scalp in order to energize the weak hair follicles. Not only does it reduce the levels of shedding and encouraging new growth, it also normalizes the condition of the scalp, resulting in more manageable hair and shinier hair. It can be used for patients of any age, and requires just 4 AA batteries. Each unit lasts between 10 and 15 years, so you can rely on your unit as a long-term investment. It's designed as a brush, so that it is easy to hold and use, just as you would a brush. It's lightweight and easy to use.
Checkout the video below for a brief overview of the product.
Going back to the FDA approval, it's vital that we take time to discuss why that is such a massive result. It's the FDA's job to protect consumers from dangerous products and gimmicks. They overlook food safety law and dietary supplements, as well as hair loss products. The application process is rigorous, and requires testing which can validate the claims of their products.
The HairMax Laser Comb is the only FDA approved device for hair loss treatment. It's only 1 of 3 hair loss treatments that has been given the FDA seal of approval, based on the clinical evidence of its effectiveness. The other treatments that have received the FDA's seal of approval are a topical solution, and also a product that is orally administered.
The FDA approval only applies to Lexington International's Laser Combs. Lexington conducted a US study which included four locations. The conclusion of the study was that 93% of the participants saw an increase in hair growth. The study was held over a period of six months, and 93% of the individuals who took part saw an addition of 19 hairs per centimeter of scalp over the period of the study. They saw their hair grow thicker and fuller.
Features & Benefits

What can cause hair loss in men? The majority of cases result because of high levels of the hormone DHT in the system. This restricts the size of hair follicles, resulting in shrinking, thus hair loss. Whether you are looking to combat hair loss in men, or for hair loss in women- the HairMax can help you too.
As far as hair restoration costs, the HairMax Laser Comb Advanced 7 Laser Model is priced at $295.
Controls hair loss for both men and women, of any age.
Stimulates hair regrowth.
Improves, thickens, and strengthens existing hair.
HairMax led clinical studies which saw 93% of participants regrow the hair that they had lost. As of now, the product has helped hundreds of thousands of consumers in preventing hair loss, and encouraging new hair growth in a safe and natural manner. It's pried affordably, and offers style and function.
What I Liked About HairMax Laser Comb Advanced 7 Laser Model? 
It takes just 15 minutes to apply the treatment, and only needs to be done three times every week.
FDA cleared for both men and women.
Clinical trials have been held to prove the product's effectiveness.
Results within just 3 to 5 months of use.
It is certified and totally safe, fully complying with the laser safety standards as set out by the US, and there is no risk of side effects.
Expect real results, with fuller, thicker, and healthier hair- and an increase in bounce, shine, and even manageability.
90% of users report satisfaction with the results after using the HairMax Laser Comb Advanced 7 Laser Model.
It's a one time cost, and that one time fee provides you with up to 15 years of use.
What I Didn't Like About HairMax Laser Comb Advanced 7 Laser Model
Dependent on your level of hair loss, it may take longer to see results, though most users see results within just 3 months.
It requires patience and commitment, so if you are unable to commit to using the product 3 times a week for 15 minutes then you won't experience the desired results.
Before and After Photos (Men & Women)
The Final Verdict
As far as hair restoration goes, there may not be any product as cost efficient as the HairMax Laser Comb Advanced 7 Laser Model. It's just a one time cost, and for that $295 you are investing in up to 15 years of hair loss restoration. It's the perfect method to stimulate hair growth for men and women. With this handy laser comb, you can expect a halt in your thinning hair, and a regrowth in hair.
The only commitment needed from you is just 45 minutes of your time every single week. That is just a time commitment of 15 minutes three days a week. You can easily fit that in while you listen to your favorite podcast, or catch up on the daily news. It couldn't be any easier.
If you're interested in making the HairMax Laser Comb Advanced 7 Laser Model yours, then you can learn more about it here on their website.